We create stunning websites that convert
Purchase a great startup website business today!
Screenshot – (click the image for a bigger preview)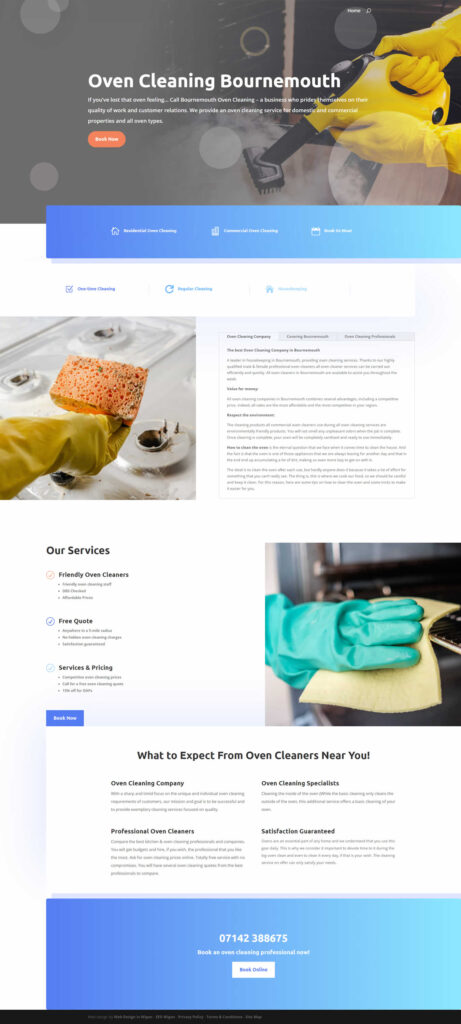 Oven Cleaners in Bournemouth – A 36 area page website that covers a 5-mile radius around Bournemouth. The website is currently new and undergoing SEO and will be offered out for rent or purchase when the website is ranking. I offer these types of websites in any area; they work reasonably well, and because you are buying what you are seeing, then you are not committed to a monthly contract. All purchases are a onetime purchase fee or monthly rental. It's a great opportunity for a startup in the Bournemouth area.
The website is created with WordPress and a page builder, which gives you control over your content.
The price is £995 full purchase, or a rental fee of £150 per month.
Upon full purchase, I will help you set up a Google My Business account.
I will help you set up an email address to receive contact form enquiries.
Minor changes (telephone number, contact address, etc) are included in the price – no hidden fees.
Domain name will be transferred to your ownership..
Full link to website:- https://www.ovencleaningbournemouth.co.uk
Optional – I can keep you on my hosting, but there will be a monthly/yearly option. I charge £15 per month or £95 per year. If you choose your own hosting, then I will need access so I can transfer everything over.
Get more leads for your local business today!